---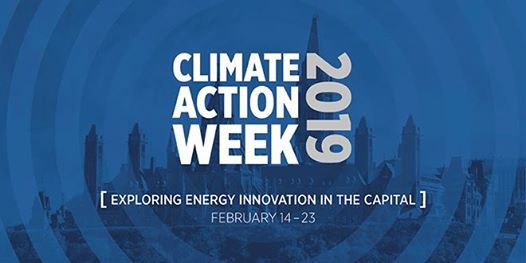 Climate Action Week 2019: Exploring Energy Innovation in the Capital #climateaction19
Climate Action Week 2019 happens from February 14th to 22nd all across the Nation's Capital. Please follow the links below for more information and to register:
Green Drinks Ottawa- FEB 14th- Brought to you by SMARTNet Alliance
Come hear from Executive Director of Ecology Ottawa, Robb Barnes as we launch Climate Action Week
Register Free Here: http://bit.ly/OTTGDFEB
Cool Science Expo FEB 16 at the Canada Science and Technology Museum.
Discover Your City Tours on FEB 16th, 19th and 21st.
Your Carbon Footprint: — FEB 18th
Take the Pledge today and start tracking your footprint
Transforming the Capital: Ottawa's Energy Evolution — FEB 19th
Accelerating to Zero: Solutions for reducing Canada's carbon emissions- FEB 20th
Brought to you by CaGBC
Early Bird Tickets on sale now: https://bit.ly/2Mblvf4
Round Table Discussion by Sustainable Eastern Ontario — FEB 22nd
Are we on the right track? Come discuss and learn about the Collective Impact Group
Curiosity on Stage- FEB 23rd
Canada Science and Technology Museum
Bring the whole family for this amazing day!!!